The Darjeeling Region
Submontane the majestic Himalayas, nestled between Bhutan and Nepal lies the region of Darjeeling.
For many an almost magical place. Which really doesn't come as a surprise because Lord Indra himself - ruler of the high heavens - blessed the place 'ling' with his thunderbolt 'dorje' - 'Dorjeling' - also known as Darjeeling or Darjiling.
The region earned its epithet 'Queen of the Himalayas' because it offers spectacular views on the whole Himalaya mountain range.
Tiger Hill in Darjeeling attracts many visitors who scramble up there in the mornings, hoping to catch a glimpse of the majestic Kanchenjunga (8.598m) bathed in shades of pink and golden sunlight. Long time it was believed to be the highest elevation on this planet. Only when the British mapped India in 1849 it became clear that Mount Everest and K2 are higher.
The tea gardens of Darjeeling
Darjeeling tea is grown on the southern slopes of the Himalayan. It is cultivated at extreme altitudes, on steep slopes, under intensive sunshine in a generally cool climate. Darjeeling tea has a distinct and unique flavor. Its annual harvest is limited, and its taste and aroma cannot be replicated anywhere else. Only tea that has been harvested it in the 87 tea gardens of the Darjeeling district may be called Darjeeling. At Teekampagne you will find Single Estate Teas from only one of the famous tea gardens as well as blends comprising Darjeeling from up to eight different gardens. On each of our packages you will find the names of the particular tea estate(s).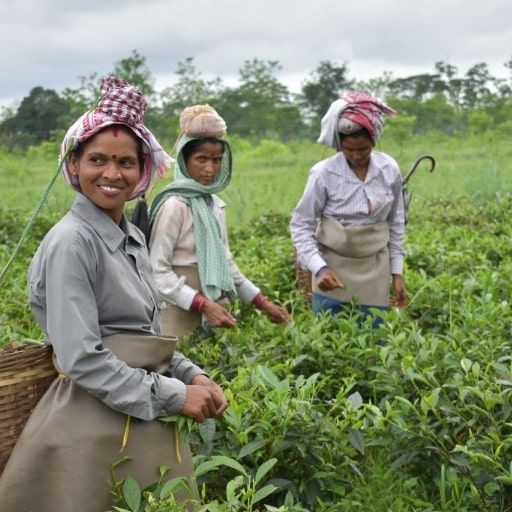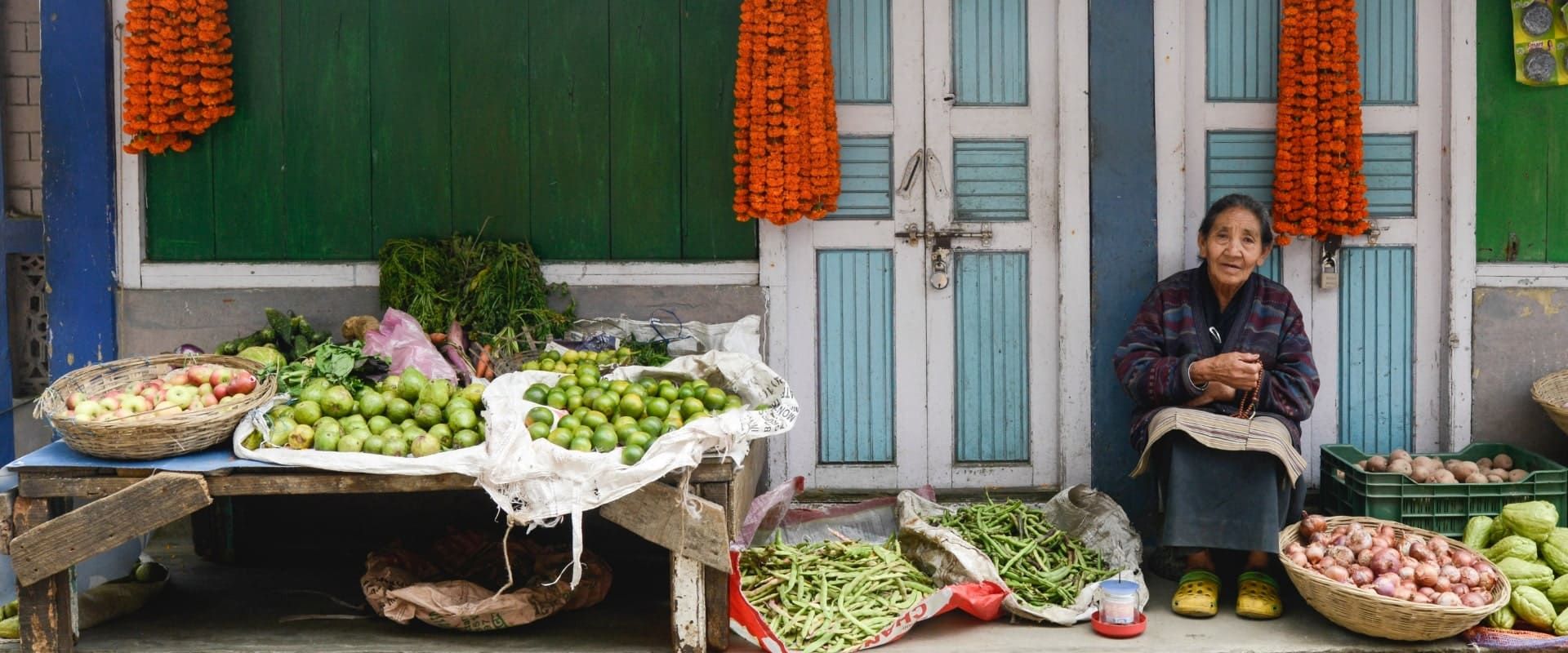 Facts & Figures
Darjeeling is a district of the Indian federal state West Bengal. Darjeeling is home to around 1.6 million people and covers an area of roughly 3.000 square kilometres - in size this is comparable to the Italian Aosta valley,
however, that only has a population of 123.000.

Many people made Darjeeling their homeland only in the course of the last 100 years, when the British encouraged immigrant workers to help building roads and setting up tea gardens. Since the majority of them speak Nepali, this is the official language of the district along with the official state language of Bengali. However, many understand or speak Hindi and English a well.
The Nepali speaking Ghorkas who form the bulk of the population in the hills, demand an independent
state Gorkhaland that leads repeatedly to political friction since the 1980s.

The district of Darjeeling is administratively divided into different divisions: Darjeeling Sadar, Kalimpong, Kurseong and Siliguri. Geographically it consists of the hills and the plains.
The plains are also referred to as Terai, and also a tea growing area.

In altitudes of 1.000 to 2.000 metres the land is mainly used for agriculture. Above 2.000 metres the land is mainly covered by forests. However, all tree populations are threatened by logging for firewood.
Impressions from Darjeeling
Friendly hospitable people, stunning nature, lush green tea gardens, steep winding roads will be some of the impressions visitors will take back home after visiting this fascinating spot.
Weather & Climate in Darjeeling
Aufgrund seines besonderen Klimas wurde Darjeeling ab Mitte des 19. Jahrhunderts von den Engländern vom Fürstentum Sikkim teilweise erobert, teilweise gepachtet und als Sommerfrische fernab der Hitze und des Monsuns in Kolkata erschlossen.
Darjeeling weist Gebirgsklima auf, d.h. mit zunehmender Höhe sinken Temperatur und die absolute Luftfeuchte, während Temperaturtagesschwankungen und die Niederschlagsmenge zunehmen.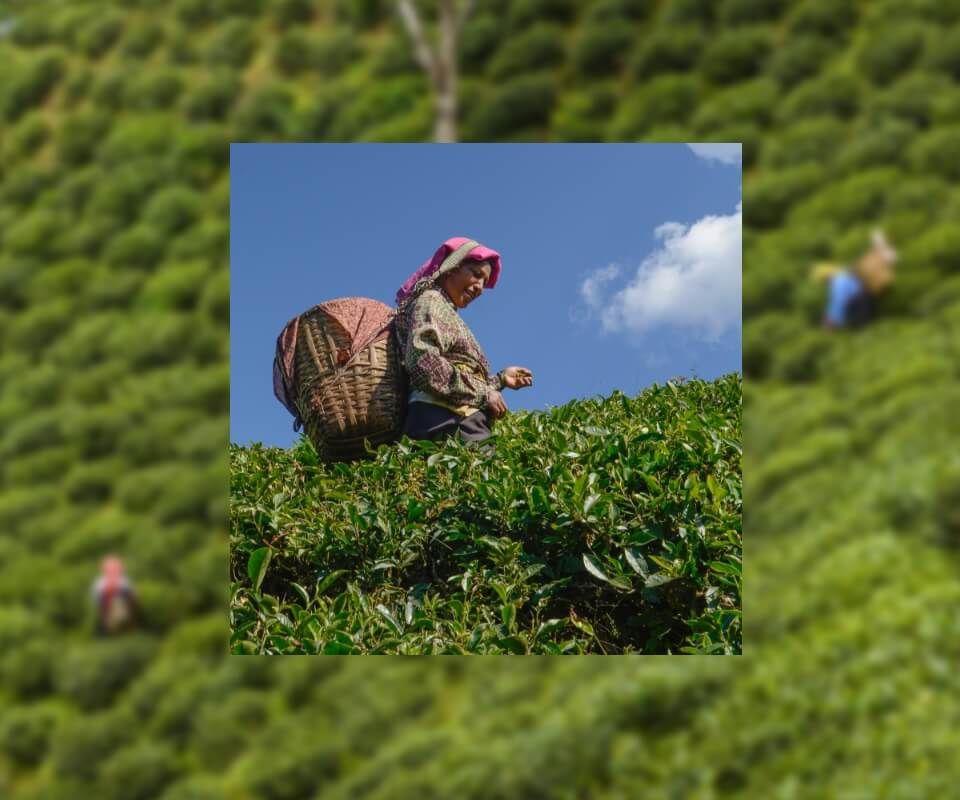 Tea & Tourism
Berühmt ist diese Region für den edelsten Tee der Welt, Darjeeling, den "Champagner des Tees". Das einzigartige Klima, geprägt durch die Höhenlage und die steilen Hänge, sorgt dafür, dass die Teeblätter hier ein ganz besonderes Aroma entwickeln. Kommerziell wird Tee seit 1856 angebaut.
Neben der Erzeugung von Tee spielt der Tourismus eine immer größer werdende wirtschaftliche Rolle. In erster Linie zieht es Inder aus der Gangesniederung nach Darjeeling. Es kommen jedoch auch immer mehr Urlauber aus anderen Regionen Indiens und vermehrt auch Ausländer. Befördert wird der Tourismus auch durch Filmproduktionen aus Bollywood. Eine ganze Reihe von Teegärten bietet die Möglichkeit, in mitunter historischen Bungalows zu übernachten.