Transparency at Teekampagne
We see transparency as the ultimate tool to educate consumers on organic quality, traceability, price calculation and packaging material.
It has been one of our core values right from the start. As a certified company, we obtain our teas exclusively from tea estates, which produce according to the specifications of organic agriculture.
Please find our current organic certificate here.
Please find our current Naturland certificate here.
Nevertheless, for us organic is not enough. Each batch of tea will be thoroughly analysed by an independet laboratory. It is tested for residues of more than 600 pesticides and unwanted substances. Only tea that doesn't exceed the statutory maximum residue levels will be bought by us. And what's more, we even share the lab results with you. You can view them by clicking "Check traceability" below.
We know exactly from which tea gardens the tea in your package originates - right back to Darjeeling or Assam. Thanks to our license agreement with the Tea Board of India we can guarantee that you will get 100 percent pure tea from Darjeeling respectively Assam.
Check traceability
Certified organic quality
Thorough testing
It is a recurring topic in the news: contaminated food and residues in tea. No matter if you drink herbal infusions, green tea or black one, no matter if you buy it at a fancy shop or at a discounter. We all don't want to worry about pyrrolizidine alkaloids or pesticide residues in our favourite cuppa. That is why Teekampagne relies on its own testing since the beginning. Every batch of our tea gets tested for well above 600 substances and pesticide residues. Only tea that meets the statutory requirements will be bought, and what's more, we share the lab results with you - for maximum transparency.
Certified organic agriculture
Our partners in India believe as much as we do that organic agriculture is the direction into a sustainable future. The last of their tea gardens converted to organic agriculture in 2010. Since then our whole product range is certified organic. Even our Earl Grey meets the requirements as its citrus note does not come from artificial additives. Our tea is flavoured with the very best a bergamot fruit has to offer - 100 percent pure bergamot oil from organic cultivation.


More than organic
Even stricter than the EU regulations for organic agriculture are the standards set by Naturland - an association of organic farmers around the world. Their standards existed long before the first EU regulations on organic agriculture became law and goes beyond their scope as it takes for example organic forest managment as well es social aspects into account. A lot of the tea gardens that we work with are certified by Naturland.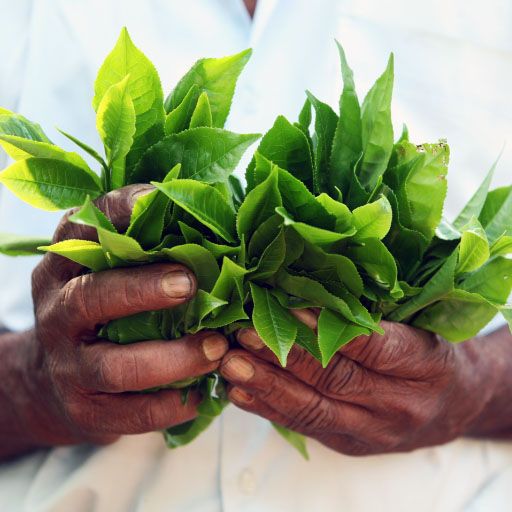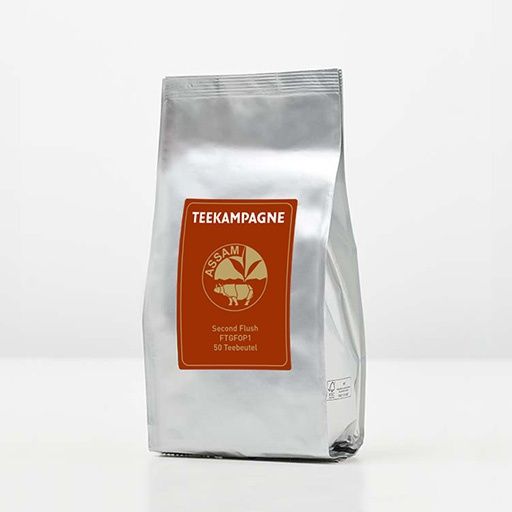 Our labels tell it all
Wine is a classic example where the label on the bottle shall give information and orientation to the consumer. The German wine law provides the guidelines as to what information needs to be disclosed and in which manner. We found this inspiring as we set up our own quality standards. Hence our labels tell is like it is - all the facts your might require, no frills.
Our label explained
Our tea packaging
Let's talk about packaging material. Product safety comes first, and of course we want the material to be as eco-friendly as possible.
For tea packaging it is mandatory to have a high barrier property - as you neither want the tea flavour to evaporate nor smells from outside to creep into your tea bag. According to the latest state of the art this can only be granted by a few selected synthetic materials.

Product safety
High quality teas require sophisticated packaging:
It needs to be hygienic and food safe.
It has to protect the fine aroma inside and keep it from evaporating.
It needs to protect the tea inside from harmful outside impact such as humidity, gases, mineral oils etc.
It has to have a certain stability to shield the tender tea leaves.
Sustainability
How can we ensure product safety in the best ecological manner? We focus not solely on the disposal but rather take the whole life cycle of the product and its production into account. How resource intense is the production and recycling? How much CO2 is emitted - also through transportation between the place of manufacture and the place of reprocessing? Finding the perfect material is a permanent question for us as the development of industrialised intelligent packaging materials is an ongoing process. As of now we use three different types of packaging material:
Block bottom bag
This is our regular packaging material for our 250g and 1000g units.
From inside layer to outside layer they consist of vellum (40g/m²) and a compound of FSC-certified kraft paper (250g-package: 90g/m²; 1000g-package: 100g/m²), OPP (oriented polypropylene) of 13μm (= micrometer, in other words one thousandth of a mm) and PET (polyethylene terephthalate) of 12 μm. The synthetic materials are necessary to provide the high barrier protection. The PET does not come into direct contact with the tea.


Sealed foil pouches
We use these kind of packages for our Single Estate Teas (500g) as well as for our tea bags.
It is a compound (inside layer to outside layer) that consists of PE (polyethylene) in a thickness of 50 μm, OPP (oriented polypropylene) with a small amount of EVOH (ethylene vinyl alcohol copolymer) amounting to a thickness of 20μm and FSC-certified kraft paper (60g/m²). The synthetic material is required to ensure the high barrier protection. The advantage of this packaging is that the front can be engraved with a laser, thus reducing the necessity of additional labels which help to save on paper and glue.

Sealed tubular bag
This is the packaging material we presently use for our Earl Grey (250g).
It is a compound material consisting of (from inside layer to outside layer): PE (polyethylene) of 50 μm thickness, PET (polyethylene terephthalate) of 12 μm plated with aluminium (0,02 g/m2) and FSC-certified kraft paper (50g/m²).
The synthetic material is required to ensure the high barrier protection. The PET layer is not in direct contact with the tea. This packaging material is phasing-out and will not be restocked.


"Green dot"
All our packages carry the recycling symbol of the Dual System Germany called "Grüner Punkt"/"green dot". If you dispose of the empty package please put it into the yellow bin or the yellow sack to ensure that the material gets properly recycled. However, the best waste is the waste that can be avoided. Hence Teekampagne favours large packages that help to save material right from the start.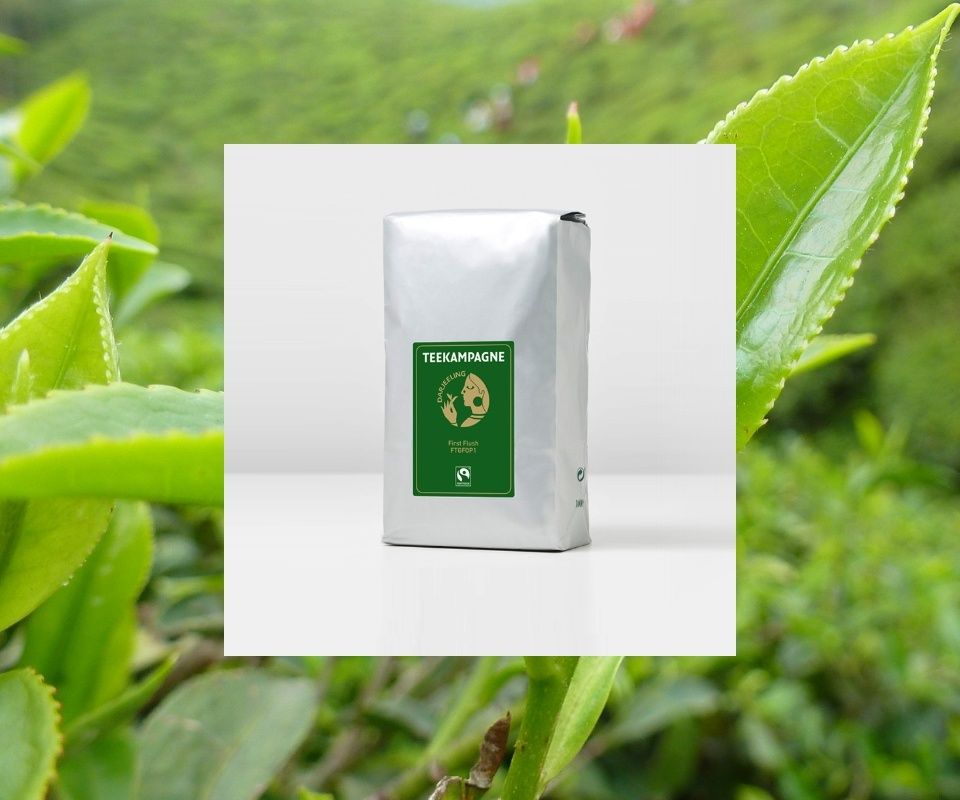 Our tea bags
While at work or travelling - sometimes you just need to prepare your tea in a simple and convenient manner. That is why we offer three kinds of our delicious teas in bags - Darjeeling First Flush, Green Darjeeling and Assam Second Flush. Our tea bags are almost translucent - a fine mesh of PLA (polylactic acid) - tearproof, free of any dust particles and absolutely neutral in taste - so that nothing will hamper the fine flavour of our teas. The pyramid shape allows the precious tea leaves to float freely.


The advantage of PLA-teabags
If compared with paper tea bags those made with PLA are the ones you should definitely prefer. Why? The production of filter paper is very energy intensive and requires a lot of water. In order to avoid residues of mineral oils you wouldn't want to use recycled paper for direct contact with food, that means you have to cut trees for the paper production. And as if this wasn't enough - white filter paper is usually chemically bleached.

Lab test of PLA-mesh
PLA-mesh contains neither plasticisers nor does it discharge microparticles as nylon and PET would. However, to be on the safe side we have asked an independent lab to analyse if any particles of the PLA-mesh will end up in the tea liquid. There was nothing detected, but please take a look at the report yourself and click here.

Disposal of tea bags
The fine PLA-mesh is bio-degradable and thus not a longlasting burden on nature. However, the degradation process requires longer than for regular kitchen waste so we recommend that you dispose used tea bags not in your compost or your bio-waste container but rather with the residue waste.

Disclosure of the price calculation
Teekampagne was founded as an example to show that high quality tea doesn't necessarily have to be sold at high prices. If you focus only on a limited product range, align your sales with the times of tea harvest and do without small packages you can save a lot on material and costs - even to quite an amazingly degree!
Since 1985 Teekampagne shows that economy and ecology can go hand in hand - and that without compromising fair treatment to all parties concerned. The result of this value-for-money-leadership is excellent tea that is very friendly on your budget.
However, the one thing where we don't like to save on: is quality.
We strongly believe that the production of high quality should be incentivised by fair prices. Roughly more than half of our retail price we pay our producers for organic whole leaf Darjeeling First and Second Flush teas. So far we don't know of any other tea company which pursues a similar value ratio. Furthermore we willingly spend money on our own multi-stage controll system to ensure the high quality of our teas. Each batch of tea is blind tasted by tea tasters and thoroughly checked for unwanted residues by an independent lab. We share those lab reports with you as well as our exemplary calculation of our tea price at the beginning of each new tea campaign. That is how we understand transparency.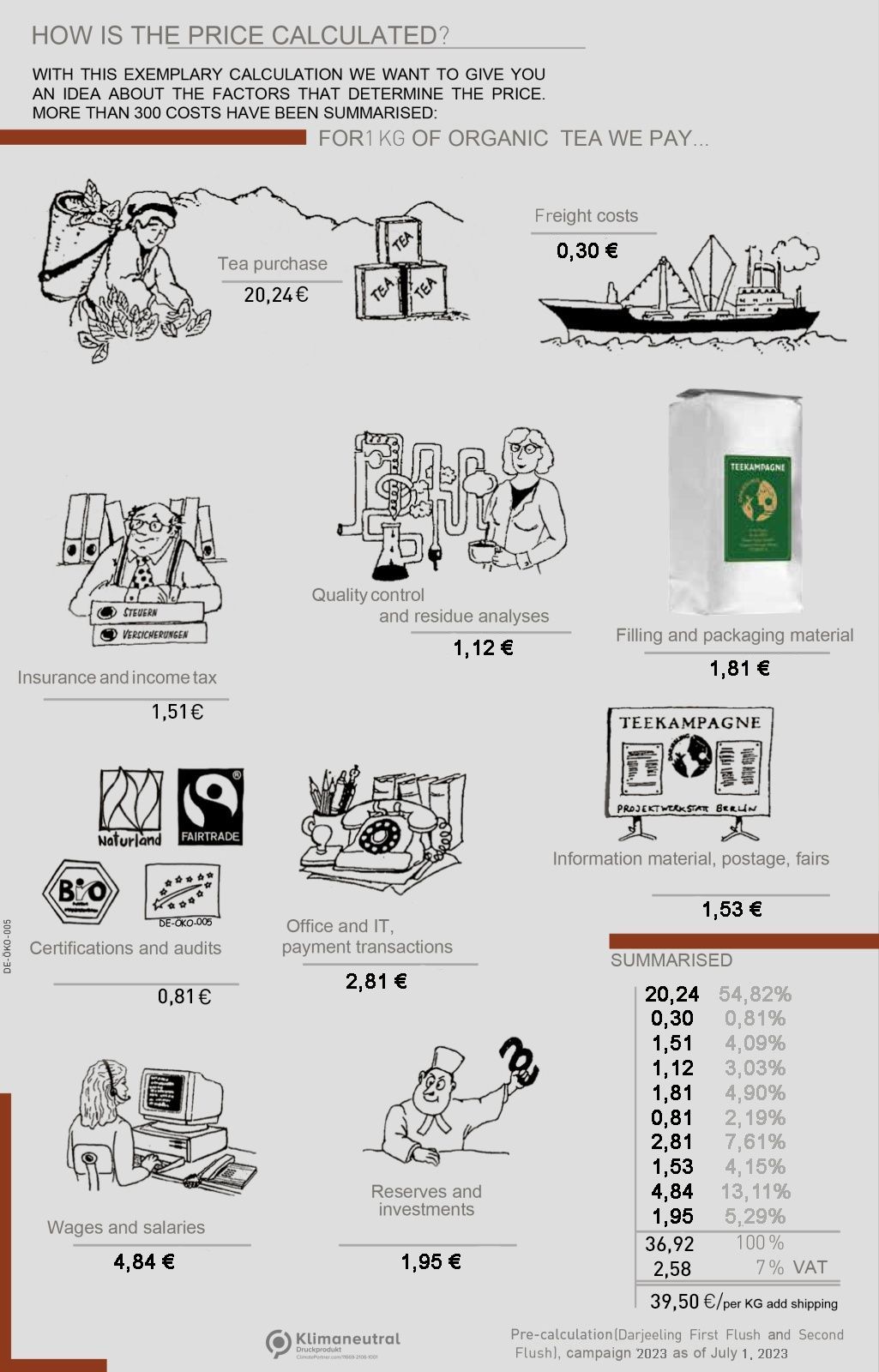 Fair to producers and to nature. And still a great price!